Welcome to AnyGolfBalls: The Ultimate Destination for Personalized Golf Balls, Novelty Golf Balls, mini golf products and Custom Golf Accessories
At AnyGolfBalls, we pride ourselves on being your one-stop shop for all things golf-related. Whether you're an amateur golfer looking to make your mark or a seasoned professional seeking the perfect gift. Our wide selection of customized golf balls and unique golf gifts are here to make your game stand out.
We have a variety of golf ball types in our inventory. Color and neon golf balls that will help you quickly locate your ball on the course and floater golf balls that are perfect for those relaxing water hazard shots. With the unmatched quality of our product offerings, we strive to ensure every golfer has the perfect ball to suit their style.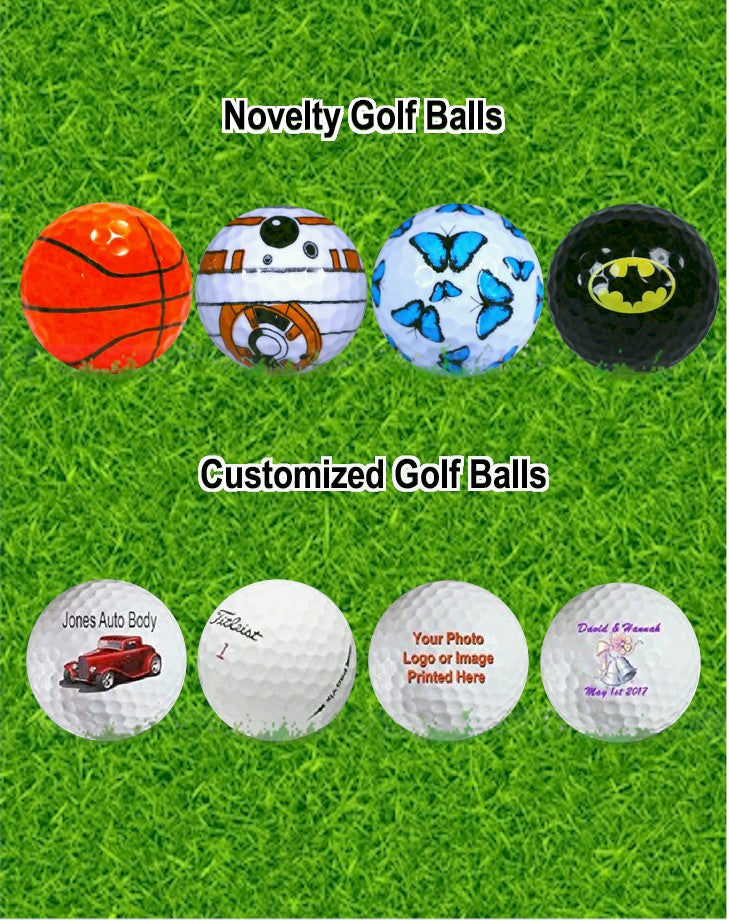 Break the Mold with Our Novelty Golf Balls
Perhaps we're most known for our novelty golf balls collection. As the only company to print 100% coverage on a golf ball, we offer unique and creative designs that go far beyond the traditional white sphere. Be it a birthday, anniversary, or corporate event, our novelty golf balls make for excellent gifts that add a touch of personalization and fun to any occasion.
Customized Golf Balls
In addition to our novelty golf balls, we offer a range of custom golf balls. These balls can be designed to bear any logo, design, or message you prefer. They make excellent promotional golf balls for businesses looking to make a lasting impression on their clients or employees. Be it a company logo or a personal message, our custom golf balls will make a statement on the course.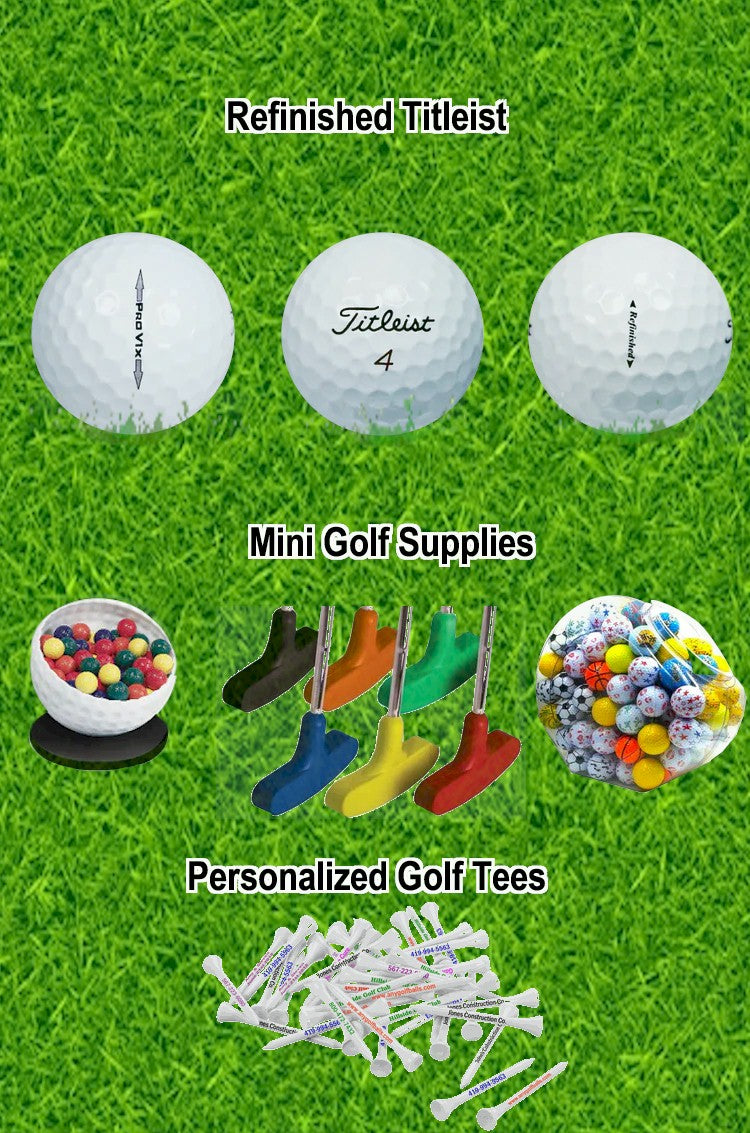 Premium & Refurbished Golf Balls
At AnyGolfBalls, we understand that different golfers have different preferences. That's why we provide both premium and refurbished golf balls. Our premium balls are for those who seek uncompromised performance. In contrast, our refurbished balls offer an affordable yet high-quality alternative for golfers looking to make the most out of their game.
Amp Up Your Mini Golf Game
We haven't forgotten the mini golf enthusiasts out there! With our mini-golf offerings, we ensure everyone, regardless of age or skill level, can enjoy the fun and excitement of golf. Our mini golf balls are designed to bring vibrant colors and exciting designs to the mini golf course.
Novelty Golf Tees
Looking to add some flair to your golf setup? Look no further than our novelty golf tees. These unique tees can match your novelty golf balls, making for an exciting and cohesive golfing experience. Each tee is crafted to look good and perform well, ensuring you can tee off in style without sacrificing performance.
Why Choose AnyGolfBalls?
Here are a few reasons why AnyGolfBalls is your best choice for all your golfing needs:
Top-tier Quality and Variety
At AnyGolf Balls, we are committed to providing only the best. We carry all major professional golf ball brands, ensuring our customers have access to top-tier quality products. Our diverse collection includes novelty, custom, and promotional golf balls, meeting a wide array of needs.
Unparalleled Customization
Our customization service is second to none. As the only company to offer 100% print coverage on golf balls, we allow you to express your creativity or brand identity in unique and eye-catching ways.
Excellent Customer Service
Your satisfaction is our priority. Our team is always ready to assist, whether you need help selecting the perfect golf ball or want to discuss customization options. We pride ourselves on our responsive and helpful customer service.
Sustainable Options
We believe in providing sustainable options without compromising on quality. Our range of refurbished golf balls allows players to enjoy a high-quality golfing experience at an affordable price while making a positive environmental impact. 
Choose Any Golf Balls for a superior, personalized, and sustainable golfing experience.
Elevate Your Golf Game with AnyGolfBalls Today!

We're excited to assist you on your journey to a more personalized golfing experience. Whether you're interested in our vibrant novelty golf balls, need custom golf balls for a special event, or want to learn more about our sustainable refurbished golf options, our team is ready to help.

Contact us today and let AnyGolfBalls bring a personalized touch to your golfing experience. We look forward to connecting with you soon!